If you'd rather keep on the move and listen, here you go: https://spotifyanchor-web.app.link/e/JCyuerKcRwb
It's time to understand your Pinterest profile and what everything is. If you missed last week, we covered what is a pin. This week I'm going to dig into your Pinterest profile, and having your profile set up is KEY to seeing success with Pinterest marketing. Let's dive into your Pinterest Profile Overview!
Watch Here: https://youtu.be/_Cukz36_ku4
Pinterest Profile Overview
Your Pinterest profile shares who you are, and your business is. You need a Pinterest business profile if you're planning on running a business, or selling anything.
Your profile is what sets you apart on Pinterest. You use keywords that fit with your target client, and Pinterest "catalogs" you in the system. This allows them to share your content with those pinners looking for the same stuff.
So, let's dig into the parts of a Pinterest business profile
Parts of a Profile
Profile Cover
This is the big image/banner up top of your Pinterest profile. Over the years they've had various different types of ones, currently, this one is 1600 X 900 pixels. You want to have it branded with your colors, company title, and tagline.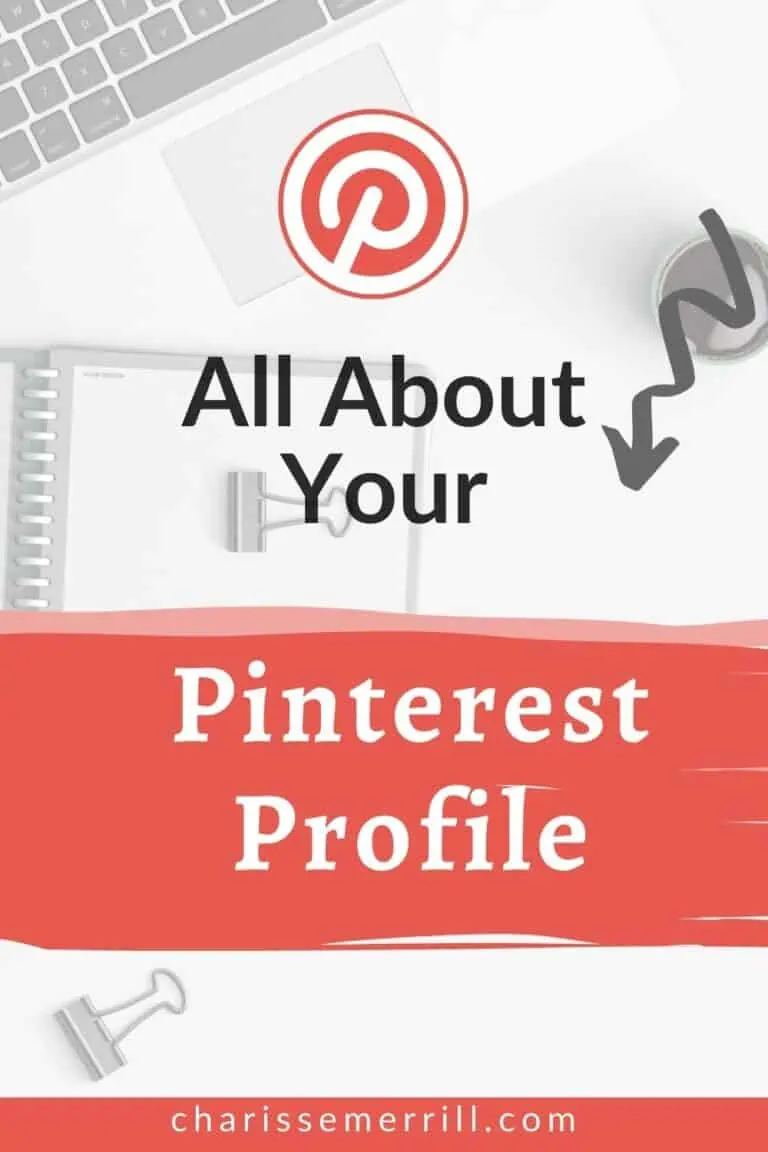 Pro Tip: Add a simple freebie link. They won't be able to click on it, but it shows them what you've got to offer.
Profile Picture
The small circle image under your profile cover. It is also the image that Pinterest shares throughout Pinterest identifying you.
Pro Tip: Use a picture over a logo. It's more personal and fits with Pinterest better
Profile Name
This is where you'll put the name of your business. You're limited on come characters, so make sure you're able to fit it within that.
Pro Tip: Be sure to add a keyword in here if your business name doesn't have one.
Website Link
This link is only available with business accounts and will have a little checkmark on the world icon showing you their website has been "claimed" (verified) with Pinterest.
Pro Tip: How to claim your website on Pinterest
Description/About Me
You have a larger space to describe your business, who you help, and how you can help them. Be sure to use 1-3 sentences describing this, and finish it off with some keywords.
Pro Tip: Try a "I help ______ with ________" type of statement.
Followers/Following/Monthly Views
"Followers" is the number of people who are following you. "Following" is the number of people you are following. "Monthly Views" is the last 30-day statistic of how many people have seen any of your pins in their feed. It's a pretty spacy number and should be read with too much drama. This is the focus you want on Pinterest.
"Created" Tab
When clicking on this tab you'll see all your lastest pins, starting with the most recent. It'll be all pins you've created, all the types of pins, and pins you have pinned from websites.
"Saved" Tab
This tab shows all of your boards. In each board has all of your saved pins, a combo of pins you made, and pins you've re-pinned around Pinterest and the web.
Boards
Boards are collections of pins based on a specific topic. You're able to categorize all your pins for easy reference. You can have as many of these as you want. Here's how to use your Pinterest Boards to grow your business.
Action Step:
Create a profile cover image for your Pinterest profile. Share the link in the comments or in my free Facebook group: Women On Pinterest.
Final words…
As much as I LOVE Pinterest marketing, it will only work for you if you make a commitment and give it a try. Pinterest is a slow-game platform. It takes time to see the speed pick up, but using these tips will definitely help you see results quicker.
Please comment with any questions you have below, or reach out to me in my free Facebook Group.