Another common question for those business owners getting started with Pinterest is "how do I get others to pin my content" or "how do I get more clicks to my website"? Both are the same question, no matter how you ask.
But first, I've gotta let you in on a little secret. You HAVE to understand this if you are going to be successful with Pinterest.
Pinterest is NOT a get rick quick platform. It is slow moving like a small snowball rolling down the hill and keeps building on itself the more it goes.
That being said, lets get started!
4 Ways to get people to share your content on Pinterest
1. You need to be consistent.
Consistency is the KEY to growing with Pinterest. The BEST way to be consistent is to pin 5-15 min a day 5 days a week. If you go out of town a few days here or there, it's OK to miss those days. But every other week, be consistent.

Wake up in the morning, and spend 10 min pinning before starting your work day. Set a timer so you get off on time.
-> Download your 6 Step Strategy to Increase TRAFFIC and SALES Using Pinterest today! <-
2. Share others content
Guys, I can't not tell you enough how IMPORTANT this is with Pinterest. To be honest, it was my very first post I wrote because it was so important. So click here to read more about why you should be sharing others content.
3. Twinkle in some of your content
So how do you actually get CLICKS to your website? By building a powerful profile with Pinterest doing the first 2 things and then twinkling in some of your pins here and there. For beginners 80% of others content to 20% of your content works best.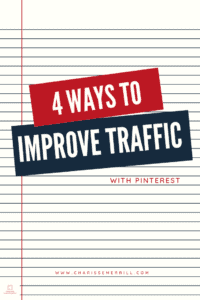 4. Create CLICKABLE pins
If you find yourself getting a ton of impressions, re-pins, and views. Then you need to work on making your pins clickable.

What is that?

They need to leave an impression of the user wanting to read more and know more.

Make sure the image and words are telling them what they'll learn when they click your pin. NOT the answer to their question. You want them going to our website to get the answer.

Make sense?
-> Download your 6 Step Strategy to Increase TRAFFIC and SALES Using Pinterest today! <-
In conclusion
Pinterest isn't about you at all. It's about the users. So if you want to get people to pin your content, then you need to be pinning for THEM. Got it?
Pinterest Action Tip:
Each day spend 6-8 min pining others content, and 3-5 min pinning yours. 🙂
If you like this post and are looking for more quick action tips, join my Facebook group for daily support, tips and help.