Are you getting great views with your idea pins but not able to grow your email list from it? Even without being able to link up your website to an idea pin, you can still get great engagement and grow your email list.
Read below for three calls to action to add at the end of your idea pin and grow your email list now.
-> STAY UPDATED WITH PINTEREST FREE TRAINING<-
Idea Pin Call To Actions
Really quick, if you haven't started to do idea pins at all, then you need to start implementing them to your manual pinning strategy ASAP.
Idea pins will literally make or break your Pinterest success with your 2022 Pinterest marketing, so if you aren't sure how to use them… then read this.
1. Follow Link In Profile For Free _______ Training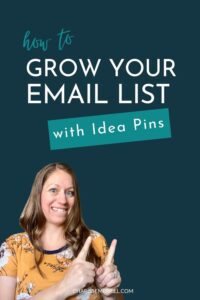 When you send them to your profile, they'll be clicking on your website link. You want to make sure that your freebie is one of the first things they see landing on your website if it's mobile or desktop. And don't just let it be a "pop up" because those get closed pretty quick and they may totally skip your freebie sign up.
Also, be sure you call out what your training is about, be specific so they know what to look for, and what they are getting.
2. Comment "Me" Below, and I'll send you over your Free Training
This CTA works well when you've added value in your Idea pin, and then mentioned your freebie. Either a video idea pin, or a multiple slide idea pin. The key is to already provide value via your pin, then they'll make the commitment and comment "me" because they already know that you're in it to help them.
3. Comment "help" Below
This is a great idea pin call to action after you've talked with them about mistakes in your niche or how they are feeling overwhelmed. Ask them to comment help, and then you can message them the link to sign up for your freebie.
A few more Idea Pin Call To Actions
4. Follow For More _____ Tips
Once you hit the 1000+ followers mark on Pinterest, getting outbound clicks and views comes so much easier. So if you're looking to gain more followers, then be sure to add this call to action at the end of your Idea Pin.
5. Heart If You Agree
Getting them to actually engage with your pin by hearting it, or giving it a "light bulb" will encourage Pinterest to push that pin out and keep it on fire for a little bit longer.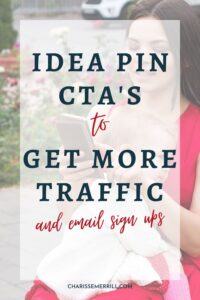 -> STAY UPDATED WITH PINTEREST FREE TRAINING<-
In conclusion
Even though idea pins don't specifically link to your website, they can still be an integral part of your 2022 Pinterest marketing and manual pinning strategy. Start adding some call to actions at the end of your value-packed idea pins and see what happens.
If you're ready to DIY Pinterest and learn an organic manual pinning strategy that only takes 10 min a day, check out this.
Pinterest Action Tip:
Create an idea pin and try one of the CTA's listed above.
-> Ready to stay updated with Pinterest and its algorithm changes? This Free Training is updated monthly to keep you in the loop <-
If you like this post and are looking for more quick action tips, join my Facebook group for daily support, tips, and help.