Ready to freshen up your Pinterest profile and reap the benefits of increased traffic and sales from Pinterest?
We'll dive into 4 steps below
-> FREE Training "Make Money With Pinterest" Get it now<-
Pinterest Account Cleaning Hacks
First off, if you'd rather listen than read, do so here (and be sure to pin it for later!)
1. Update your Profile Background Cover Image
In the previous days of Pinterest, you could just click a button, and Pinterest will show all your latest pins in the background. But that's not the case anymore. Go to Canva *affiliate* and create a Pinterest background cover image 1600×900 px. Be sure to leave space at the bottom because your circle profile image will cover it up.
Psst… PIN IT for later.
A few things I recommend having on your image:
Company name
The headline of what you do
Easy link to a freebie
Branded to similar social media profiles
2. Create Board Covers
This used to be a thing, then not a thing, and it's back to a thing. Why? Because with idea pins, Pinterest doesn't allow you to add a link to your website but directs users to your Pinterest profile. This makes having board cover images a much bigger deal.
A few things to know about board covers:
Make it the same size as a standard pin. Canva will always have the most accurate sizing.
Create it similar to your profile background cover we talked about above.
The image should have your board name, and be in the middle of the image. Not much going on elsewhere. Pinterest will always zoom in on the middle of the image, so you can guarantee it'll see your board name.
When adding your board image, just "create a new pin", link up a blog post that relates to that board, and save the pin to the board you want it to be the image for. (that's the most important part).
Edit the board of the image you just uploaded, and click the "+" to add an image, you should see your newest board cover image pin. Click on that, and you've updated your board image. Congrats!
-> FREE Training "Make Money With Pinterest" Get it now<-
3. Start Creating Idea Pins
Believe it or not, Pinterest has really been pushing idea pins. It's the best way to boost your slugging Pinterest account, and get a new account rolling in the Pinterest feed.
4. Delete Old Boards
Yep, those boards which don't fit your brand anymore. Or you thought did, but you have zero products connected to it, it's time for them to go.
It's OK to delete and archive boards making your profile more specific to who you help. This helps Pinterest serve you better.
In conclusion
Cleaning up your Pinterest account can help boost your traffic, jumpstart a new account, or boost your account you've been putting on the back burner for a while.
Pinterest Action Tip:
Schedule 1 hour to do the first 2 steps of the Pinterest account cleaning hacks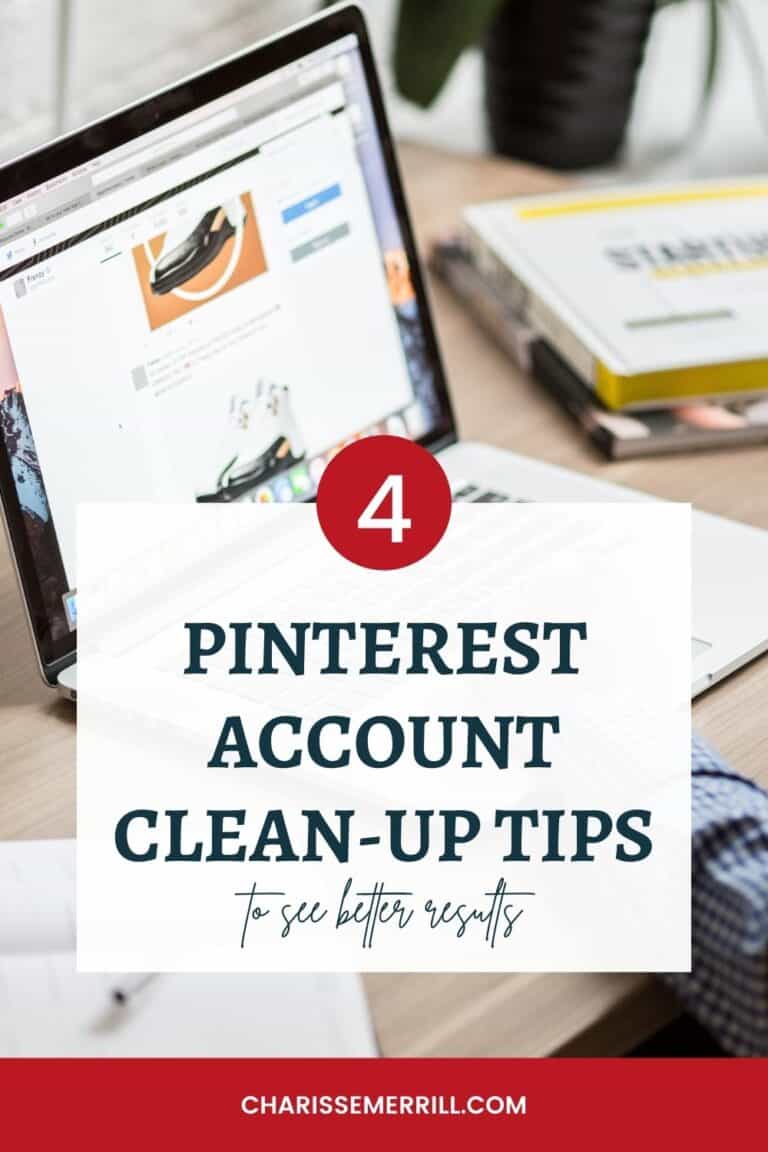 Need more help with Pinterest? Ask your questions in my free Facebook Group.