If you'd rather keep on the move and listen, here you go: https://spotifyanchor-web.app.link/e/LyiN8fNRHvb
As an entrepreneur, the goal is got get leads to market too, but sometimes finding high-quality leads can be extremely difficult. Learn how to generate high-quality leads using Pinterest marketing below.
Watch Here: https://youtu.be/gqs7_4pw2Ow
First off, let's define what a "high-quality" lead is. It's a lead that:
Fits with your ideal client (someone who is looking for what you have to offer)
A person who relates with your brand
Ideally an action taker (you want them to open emails, and buy from you)
Someone who needs what you have to offer.
Generate High Quality Leads Using Pinterest Marketing
First off, you want to create content that targets your ideal client's pain points. Content that is solving a problem they have. Content solving a need, and helping them with something.
Second, in that content, you're going to invite them to take the next step. A link to your calendar, free call, sign up for a PDF. It's your choice, but you NEED to ask them (have a call to action), or you won't be able to capture them as a lead on your email list.
Third, you are going to create pins for that content. Standard pins, idea pins, video pins. Your choice (a variety is great). Read more about idea pins here.
Example:
Many potential clients are looking to learn how to make money with Pinterest, and in turn, I realized they also take interest in affiliate marketing. So, for my content, I created a blog post "How to make money with affiliate marketing". In this post, there are multiple ways for them to take the next step with me and sign up for freebies. After creating pins, which took off on Pinterest following their best practices, and using Pinterest Keywords, I've been able to attract leads using Pinterest.
When they are searching "affiliate marketing" or "affiliate marketing with Pinterest". My pins show up. They click, read value, sign up for freebies, and start making their way down my email funnel of education until they purchase the POG Course.
How "High Quality" are Pinterest leads?
You may be wondering how "high quality" Pinterest marketing leads really are. Well, it can be hard to compare seeing that it can take up to 6 months for a single pin to take off, vs on Facebook you can get leads a lot quicker.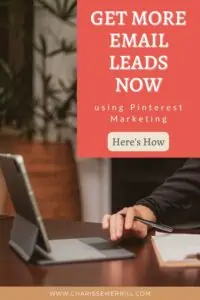 Opt-in Rates– Leads from Facebook: 15-20% Leads from Pinterest 30-35%
Email Open Rates– Leads from Facebook: 10-15% Leads from Pinterest 25-35%
Email Click Rates– Leads from Facebook: 0-1% Leads from Pinterest 1-5%
So, you decide the difference. Is 200 leads from Facebook more worthwhile than 20 leads from Pinterest in a 3-month time frame?
I found Pinterest marketing not only allowed me to have more time as a busy mom entrepreneur (since marketing only takes 10 minutes a day), but ALSO see more cash with less "work effort" using Pinterest than Facebook.
Action Step:
The first step to getting high-quality leads from Pinterest is to: Identify 1 piece of content which will attract your ideal client. If it's already written/recorded, make sure you have your lead magnet in there and create pins for it. If not, write/record, create pins, and add them to Pinterest.
Final words…
As much as I LOVE Pinterest marketing, and how so many companies rave about automating their funnels, Pinterest is not for everyone. Be sure to read this and find out if your business is right or not for Pinterest marketing.
Please comment with any questions you have below, or reach out to me in my free Facebook Group.