If you'd rather keep on the move and listen, here you go: https://spotifyanchor-web.app.link/e/O9f4g5oX4yb
Are you panicking about starting on Pinterest because you don't want to deal with another platform to create content for? Great news, here are 3 ways to easily convert Instagram Content To Pinterest.
Watch Here: https://youtu.be/CI0LwUBfLWA
3 Ways To CONVERT Your Instagram Content To Pinterest
1. Standard Value Posts
This will be the most time-consuming strategy but the best one or website growth.
The Instagram standard value posts I'm talking about, are the posts where you have 1 or 2 images, and your description teaches you about a topic. Typically these posts have more than 3 paragraphs, educate them about something, and maybe give them a call to action. They add value, and it's more than a couple of sentences.
For these posts, if you have the time, I highly recommend turning that description into a mini blog post. Blog posts don't have to be long, they just have to cover one solution.
After creating your mini blog post, create 3-5 pin images (Canva always has the accurate size), you'll want to start pinning those images, linked to your blog post, on Pinterest.
Not only will this give you more content on your website, but now that this content is a blog post, other internet users can pin it and promote it for you… for free!
2. Instagram Carousel Posts
These are the posts where you have multiple images, and the images pretty much "educate" you on everything. Most often you see the image with a large headline and a sub-headline and possibly more information on each slide.
If you've created these posts in Canva, then resize them to Pin size images, and download them. To get the most out of your Instagram content for Pinterest, I recommend downloading them 2 different ways.
Download each image by itself. Canva will send it to you in a zipped folder. You then will upload each of those images separately for a Pinterest Idea pin, each image gets its own slide. So if you have 5 images, you'll have 5 different slides with your Pinterest Idea Pin.
Download all the images together, in a video. Canva will automatically put a few seconds in between before showing the next slide. Then you can either upload the video as a video Pin or as a single Idea pin, with the single video.
PRO TIP: If you have some extra time… in the Pinterest app, go ahead and record an "audio" over the image explaining a bit more than what the image says.
3. Instagram Reels
You want to start by downloading your Instagram Reel to your phone. Then you open your Pinterest app, create a new Idea Pin, and upload your video there. If you have multiple Reels covering the same content, upload each reel to a Pinterest idea pin so the pinner can get the full value.
PRO TIP: If you don't have a cover image on your reel, telling the title of what you're going over, quickly add one with the Pinterest app.
BONUS PRO TIP: When recording your reels, make sure you add captions to them! Most pinners don't have their volume on when scrolling like Instagram users might. Having captions will hold their attention longer than a video where they're unable to turn on the sound with their location.
Action Step:
THIS WEEK, convert one of your IG posts into a Pinterest pin. Use one of the 3 ways to convert Instagram content to Pinterest noted above. Set aside about 15 -20 min to do it. At first, it'll take more time, but once you get the hang of it, it'll go quicker.
Final words…
I'd love to hear if there are any other ways you've been repurposing your Instagram content on Pinterest. Let me know below.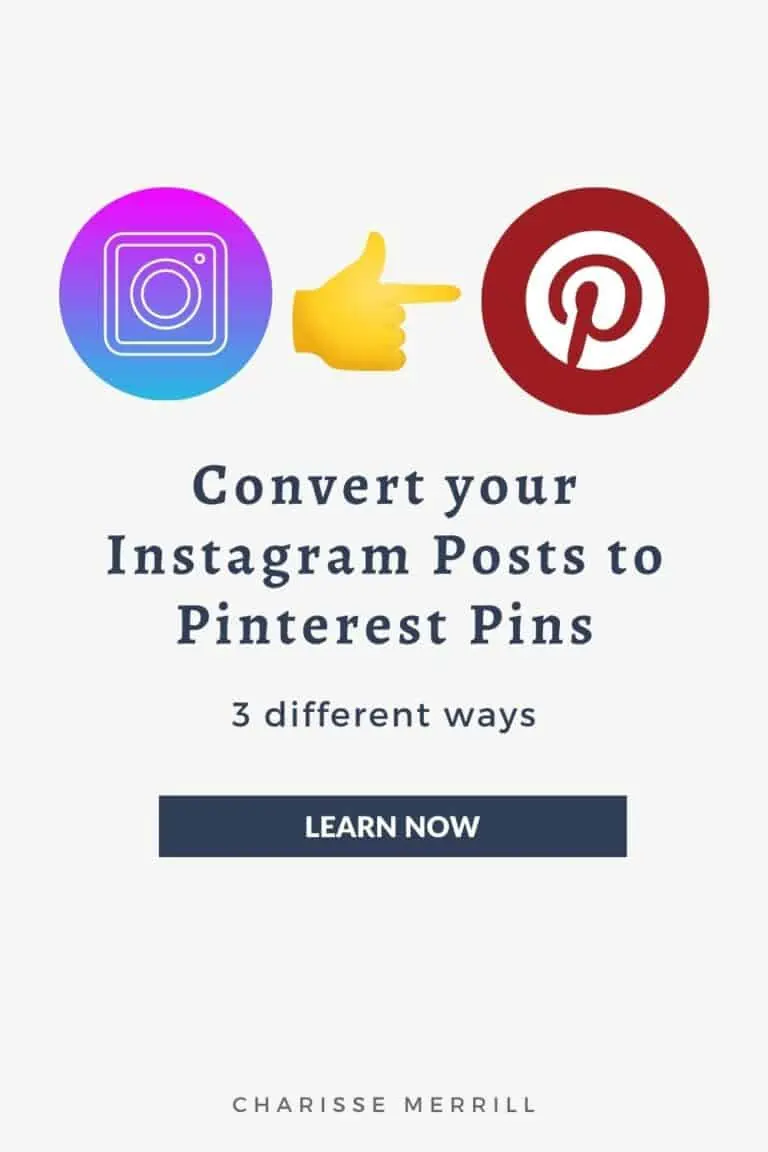 Need more help with Pinterest? Check out the POG academy. This is for beginners-moderate level business owners and entrepreneurs. Not only will you learn all the nuts and bolts of Pinterest (so you can be your own Pinterest VA if you wish), but you'll develop your own streamlined pinning strategy taking no more than 10 minutes each workday to increase website traffic, lead generation, and grow your business with Pinterest.
Please comment with any questions you have below, or reach out to me in my free Facebook Group.
Other Helpful Reading:
How to Create New Content For Pinterest